Q. What is the efficiency of a solar PV system in Ontario?

A. A Photovoltaic system operates by collecting sunlight, both direct and diffuse. The Efficiency of a "system" is considered as being the power it can generated (in rated peak kilowatts) in a given amount of space. When a photovoltaic system is installed on a rooftop or ground mount, the electrical energy yield will vary depending on numerous factors including ambient and solar cell temperature, tilt angle, ventilation, shading from obstructions, and geographical location. Based on figures from Natural Resources Canada the amount of average daily solar radiation (hours) available for the Toronto area is 1150 kWh worth of power generated from 1 KW system. This can be demonstrated by the solar radiation graph described below: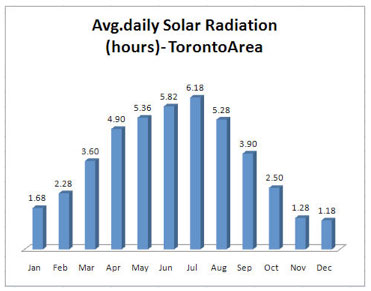 The above graph shows that in Winter months the amount of power generated is less compared to summer months. The average is for the entire year. Careful project design is imperative in order to attain optimum operational efficiency.
Q. Can I install a system in my back yard if my roof is not suitable?
A. Under Ontario's Micro-fit program homeowners and businesses are able to install ground mounted systems and receive $64.2 KWH. Please note that this may not be feasible for commercial property owners based on safety and security reasons.
Q. How long will it take to install a system?
A. Based on the size of the solar system (in kW), it may take anywhere from 1-3 days to few weeks. A typical installation for homes will be 1-3 days. Larger projects like commercial plazas or industrial buildings will take about 7 to 10 days.
Q. What size system can fit on my roof?
A. This would depend on what you would want to spend and the best placement for a good return on investment. Not all roof space will be suitable for installing solar systems. (an on site visit will determine what size system will work). However, an average solar module is 3'x5' in size and a typical ontario home can take about 5 to 15 modules based on the sun-facing roof orientation. This should be the space required for solar PV installation.
Q. How much Warranty is provided for the installation?
A. With the equipment, there is a specified warranty. NLSS offers a 4 month warranty on the installation. NLSS also offers a maintenace package where our clients can decide to enter into an annual maintenance contract for a payment depending on the size of the system installed.
Q. Do I have to keep the solar module/panel clear of snow in the winter?
A. The Solar Modules will absorb any "sun heat" and melt the snow. Also, in the winter your panels should be parallel to the roof, meaning, they will always remain at an angle which will make the snow slide down very quickly. However, it is encouraged to clean the panels when ever possible. If snow does remain on the panel, the efficiency of the panel and array will decrease.
Q. How to verify the power output generated by the system?
A. There are programs available to monitor the system output. A typical system using inverters from Enphase Energy (one inverter per panel) will come with web-based monitoring units allowing module-wise power monitoring on daily, weekly, monthly or yearly basis. You can track your output from any PC that has internet connectivity. Please note that Enphase does charge a nominal cost for this service. For systems using a central inverter, there are companies that offer wed based solutions and our sales associates can discuss this option and costs with you. Many of the systems do have a monitoring system built into the inverters.
Q. What if the system breaks down or stops generating power?
A. Both panels and inverters come with an extensive "manufacturer's warranty" ranging from 15 to 25 years. In the highly unlikely case that a system does stop working we do offer a per-call service at a per-call service charge which will cover labour. Though there are no servicable parts, there could be service requirement to inverters or to other electronic / electrical parts. We can provide you the required service.
Q. What size of system (in kW) can be installed for my rooftop or the yard?
A. A NLSS sales associate will conduct an on site assessment to determine the most suitable system for your home or business. Please note that not every home or business will be a candidate. Our goal is to ensure the best rate of return on your solar investment. Please use the "Register Online" link and we will be glad to initiate the site survey.